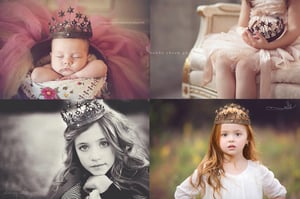 $

27.00 - On Sale
{Click Image to Enlarge}
REG PRICE $37
The vintage style STAR CROWN is here and just as adorable as can be! I adore the aged look and the stars. Little girls are going to adore this crown too!
A slightly smaller addition to our crown collection. A bit large for newborns, but perfect for 6 month-ish and up.
Measurements: 4.75" D x 3.5" H (tallest star to base)
Please Note: The remaining inventory of Star Crowns contains imperfections which can include 1-2 cloudy, rotated or missing stones. This is barely noticeable and will not effect how beautifully the Star Crown photographs!
Shipping:
US - $7
Images Courtesy of:
Blue Dandelion Photography
Kara May Photography
Chubby Cheek Photography
Sandra Bianco Photography
Amy Cannon Photography